Has clutter taken over your home or office? Need to clear out space in your garage? Atlantic Self Storage in Jacksonville, FL, has the storage solutions to get you organized again. With a variety of storage unit sizes perfect for family heirlooms, furniture, or even a boat or RV, Atlantic Self Storage is sure to have the right fit for your needs.
Visit our Locations page to find an Atlantic Self Storage facility near you.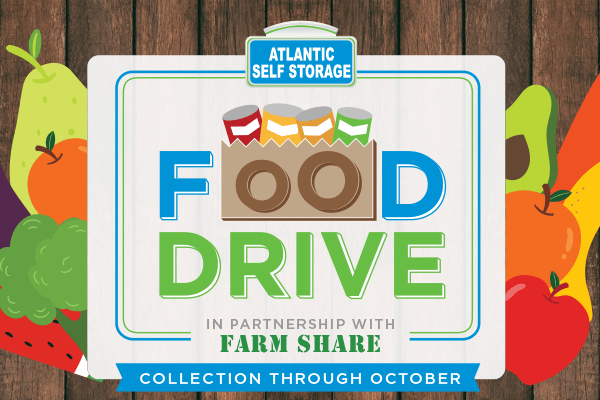 Please help us collect food for local families in need this Holiday Season.
Drop nonperishable items at any one of our 46 locations through October. Suggested Donations include:
Canned Meat & Seafood
Canned Vegetables
Canned Fruit
Canned Soup / Chili
Canned Meals
Dry Mac N Cheese / pasta
Peanut Butter
For more information about Farmshare, visit http://farmshare.org
Serving Our Community Since 1979
Month-to-Month Leasing
24/7 Coded Access
Storage to Fit Your Lifestyle
Self storage needs come in all shapes and sizes. Today you might need a smaller unit to store office supplies or documents, but down the road you may need space for a large RV or camper. Atlantic Self Storage has units available for all your possessions, big and small, with flexible leasing options and payment scheduling to fit your needs. Our convenient locations make dropping off or picking up your belongings easily fit into your schedule.
For more information on our specialty storage options, give us a call or send us an email. Our friendly and professional staff are here to answer your questions.