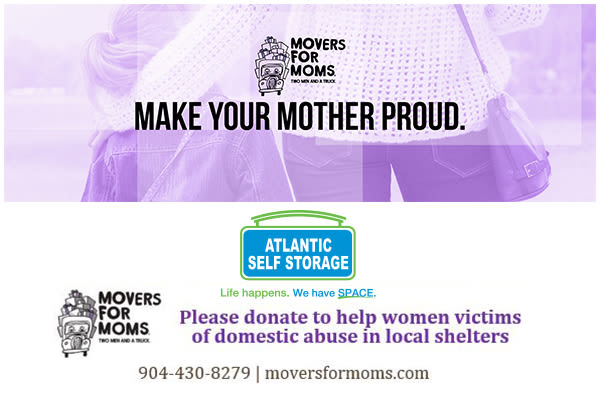 Movers for Moms Donation Drive
Atlantic Self Storage is proud to partner with Two Men and a Truck for "Movers for Moms," a donation drive to help support domestic violence victims. This year's donations will go to help Hubbard House in Jacksonville and the Betty Griffin Center in St. Augustine.
Help these families in need by donating toiletry items, nonperishable food items, pillows, blankets, robes, and more!

With each donation, you can enter for a chance to win a family four pack of Jumbo Shrimp tickets! Simply donate and submit your name to any of our Atlantic Self Storage facilities. [One winner per district.]
 
Campaign Dates: April 1 – May 12
 
Growing families, lifestyle changes, and moving are just a few reasons why having extra storage space can be valuable.
That's why for the last 40 years Atlantic Self Storage has been dedicated to providing northeast Florida with storage solutions that work for you.
With a safe and affordable storage option nearby, you don't have to sacrifice your important belongings or the comfort and tidiness of your home or business
Call Us Now at 877-937-8673 to learn more about our Facilities.
Storage to Fit Your Lifestyle

Self storage needs come in all shapes and sizes. Today you might need a smaller unit to store office supplies or documents, but down the road you may need space for a large RV or camper. Atlantic Self Storage has units available for all your possessions, big and small, with flexible leasing options and payment scheduling to fit your needs.

Our convenient locations make dropping off or picking up your belongings easily fit into your schedule.
For more information on our specialty storage options, give us a call or send us an email.
Our friendly and professional staff are here to answer your questions.