4 Tips On How to Safely Store Your RV and Boat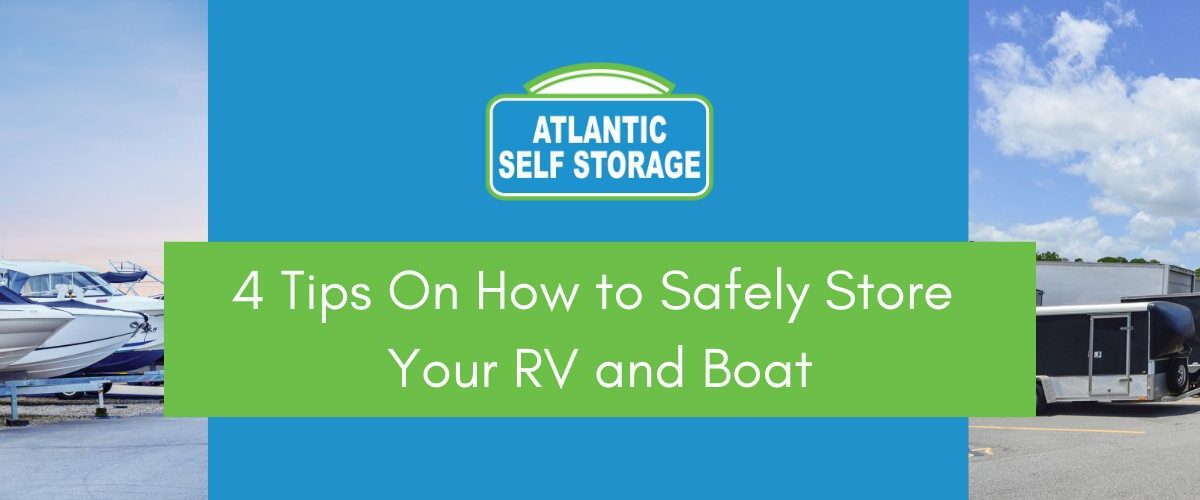 Finding a safe place to store your RV or Boat can be challenging. Properly storing these items directly relates to the lifespan of enjoyment involved in owning an RV or Boat. We have four tips on how you can safely and securely store these investments with Atlantic Self Storage.
1. Find a Location Near You
Find a storage location that is close and convenient to your home. This will make the storage process a lot easier. If you decide on a spur-of-the-moment trip, your RV or Boat isn't too far away. This also makes checking in on your items effortless. Atlantic Self Storage has multiple Boat and RV parking locations in Northeast Florida. Some of our locations even offer indoor parking options.
2. Choose Drive-Up Storage or Open-Air Parking
Storing your RV or Boat in a drive-up storage unit is the best way to go. Your toys will be safe from potential damage, theft, and weathering and you will free up space in your driveway, yard, or garage. Open-Air Parking utilizes an easily accessible outdoor space that provides quick and convenient access any time, day or night. Either storage option assists with HOA compliance and can give you peace of mind at our secure Atlantic Self Storage locations.
3. Clean and Cover
Make sure to deep clean your Boat or RV before you store it. This might involve getting your investment detailed or washing and waxing it at home. Florida's humidity and weather always provide a challenge to maintaining a Boat or RV. Pick up several moisture absorbers and place them all around the inside of your vehicles. If you decide to use outdoor, open-air parking, waxing is a must. Wax can help protect from UV rays and other harsh elements. Lastly, make sure to remove all food or perishable items before placing a cover on the stored item.
4. Check In
It never hurts to check on your items while you aren't using them. Problems can arise when you don't regularly use your Boat or RV. Nip these in the bud by checking in frequently. Take advantage of our drive-up storage units so you can make your visit quick and easy!
More From Atlantic Self Storage